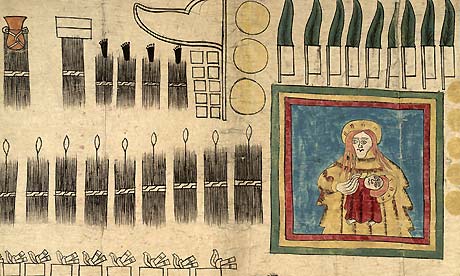 Huexotzinco Codex, 1531, documenting in pictographic language part of the testimony in a legal case against representatives of the colonial government in Mexico, ten years after the Spanish conquest in 1521. Photograph: Library of Congress
Link:
http://www.worlddigitallibrary.org/
Coming online on April 21, 2009:
The
World Digital Library
will make available on the Internet, free of charge and in multilingual format, significant primary materials from cultures around the world, including manuscripts, maps, rare books, musical scores, recordings, films, prints, photographs, architectural drawings, and other significant cultural materials. The objectives of the World Digital Library are to promote international and inter-cultural understanding and awareness, provide resources to educators, expand non-English and non-Western content on the Internet, and to contribute to scholarly research.
I am looking forward to its launch on April 21 and hope to review it on this blog. I'm always excited about
free
resources that promotes knowledge and research.
LATEST UPDATE:
The Guardian has just published a write-up on the World Digital Library:
New Digital Library to Display World on a Website
.